Why choose Karma over Nectar?
Nectar helps team members feel valued and connected, build camaraderie and celebrate wins both big and small. If you're here to understand the difference between Karma and Nectar or looking for an alternative, this article is for you.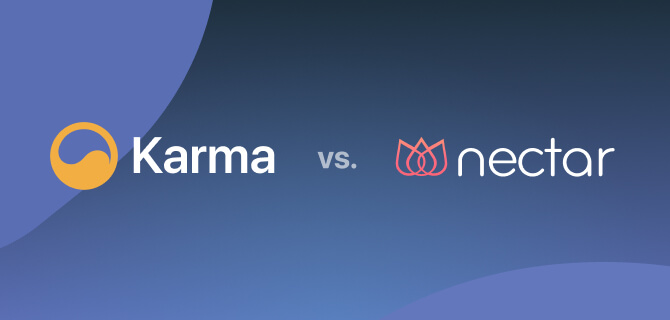 What's the difference between Karma and Nectar? What's right for me?
Karma and Nectar are one of the most popular employee recognition platforms on the market. Both platforms offer a variety of features, including the ability to give and receive recognition, set company values, and track progress. So, what's the difference between them?
Both platforms offer a free trial, and after it's finished, you can continue using Karma's free account with limited features, which is always possible to upgrade to a PRO subscription. Nectar instead, has no free account available and provides you with two billing plans according to the indicated features. When it comes to defining features, Karma is focused on helping employees build positive relationships with their co-workers. The platform offers several ways to send instant recognition in Slack and includes features like peer-to-peer recognition and live connects. Nectar, on the other hand, is focused on individual achievement and helping managers track employee performance. The platform includes features like challenges setting and a recognition wall.
So, which platform is right for you? If you're looking for a way to build positive relationships with your co-workers, Karma is a great choice. If you're looking for a way to implement rewarding system and improve social activity, Nectar is a great choice. Now, let's compare the most common features of both recognition platforms.
Set up the account

Karma is made especially for Slack, so users can enter their Personal accounts with the magic link. There's no need to create additional passwords or set up the profile either, Karma takes care of it all.

Nectar is designed as a social platform. To set up an account, users have to go to the website and register for an account. After it they can access the platform and invite it to Slack.

Reinforce company values

Karma allows to customize questions and receive anonymous feedback from employees. Provides leaderboards that allow recognition of more employees by filtering it according to the various company values. Karma also offers live connect and achievement dashboard features.

Nectar allows to create custom challenges that can be used to promote company values or add gamification to the recognition process. Nectar can point out to managers employees that were left out and therefore might need more recognition.

Create rewards

Karma allows users to redeem custom rewards, automated gift cards, and send donations. With Karma you can also create team rewards to motivate employees to interact with each other more. Karma coins don't expire.

Nectar offers extensive rewards catalog so users can choose from company branded swag, Amazon products, gift cards or custom reward types. Nectar coins don't expire which allows users to accumulate them and redeem for a more valuable gift.

Give recognition

Karma is built especially for Slack, allowing fast recognition in any channel and to the whole list of its participants at a time, or also by selecting users individually. Employees can use trigger words and automated emojis to share more instant recognition within the channel.

Nectar is built as a social platform. It encourages giving recognition on the platform's recognition wall or in a separate Slack channel using a specific command. There's a possibility to give points to a few people at a time.
An alternative to Nectar —
only more affordable
Karma and Nectar have many similarities in common, great customization, and additional recognition features. If you're looking for a comprehensive solution that will allow you to automate and manage your entire employee recognition program, then Karma is the right choice. If you're looking for a solution that focuses on individual achievement, then Nectar is the right choice. Finally, Karma's pricing is more flexible and affordable than Nectar's, making it a better option for small businesses and startups.
Custom values
Feedback
Reports
Rewards
B-day notifications
Leaderboards
Quarterly/monthly/
weekly/daily dashboard period
Personal profile for each employee
Departments
Distribution of the bonus for the selected period
Leaderboards by company values
Onboarding video guides
Games
Customizable bot responses
Branding
Achievements dashboard
Leaderboards by groups
Onboarding connect feature
Live connect
Channel recognition
Reaction recognition
Automation/trigger recognition
Customizable default view