Why choose Karma over Bonusly?
First, we'd like to acknowledge that The Bonusly team has built an effective recognition platform that helps to unite remote companies. This is a great product that helps employees feel appreciated and motivated in their work. If you're here to understand the difference between Karma and Bonusly, or looking for an alternative, this article is for you.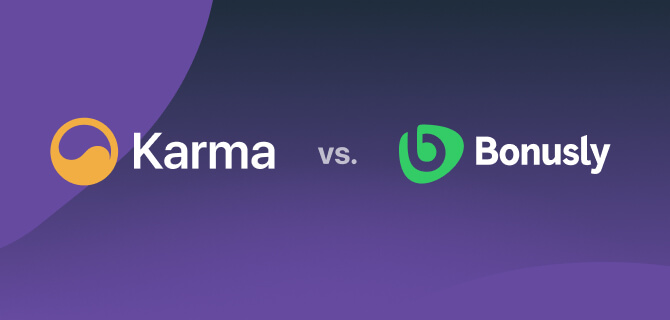 What's the difference between Karma and Bonusly? What's right for me?
Great question! We obviously think Karma is pretty awesome, but here's an honest objective answer: Both products provide recognition platforms where employees can interact with each other, get motivated and be appreciated. With both platforms, you can set up reward programs and create company values. You can also have a leaderboard where you see the employees who are most recognized in your organization. Both Karma and Bonusly, give you detailed analytics and reports of which employees are using the platform most, what kind of recognition they are giving, and who is receiving the most of them.
By digging a bit more, it may seem like Bonusly is more suited for formal management style companies due to its wider roles division and minimum customization and branding features. On the other hand, Karma is a more flexible and eye-pleasing platform. It contains less division by roles but provides diverse tools for remote teams to engage and get to know each other better. Now, let's take a closer look at how Bonusly and Karma differ.
Set up the account

Karma is designed especially for Slack. Users can enter their personal accounts with the magic link which provides a way to authenticate without a password. There's no need to set up the profile either or take a long onboarding guide to learn how to use the product.

Bonusly is designed as a social platform. To log in to a personal account users have to sign in with an email and then set it up.

Reinforce company values

Allows recognition of more employees by filtering the leaderboard according to the company values.

Compares user recognition received to the company average. Provides one common leaderboard.

Create rewards

Karma offers personal rewards as well as team rewards to which all users can contribute a specific amount and then redeem for the whole team's benefit.

Bonusly has an option to not only give away points but also the ability to attach a reward to verbal praise

Give recognition

Allows giving recognition in any channel and to the whole list of its participants at a time, as well as by selecting users individually. Karma coins can be shared publicly and privately. Employees can use trigger words and automated emojis to share more instant recognition within the channel.

Encourages giving recognition in a separate channel. Doesn't support private manager-to-employee recognitions. Allows assigning points to a few people at a time. You can also comment or like other people's recognitions, which makes it more personal and interactive.
An alternative to Bonusly —
only more flexible
Bonusly may not be the right fit for every organization. If you are looking for a recognition platform that is more customizable or that offers more features, this platform may not be the right choice for you. Bonusly is a paid recognition platform. While it does offer a free trial, you will need to pay for a subscription in order to continue using the platform after the trial period ends. Karma, contrarily offers a free run even after the end of a 30-day pro subscription trial. And even though Bonusly has great basic essential features for team recognition, it doesn't provide users with other alternative tools for team connection that are present in Karma.
Custom values
Feedback
Reports
Rewards
B-day notifications
Leaderboards
Quarterly/monthly/
weekly/daily dashboard period
Personal profile for each employee
Departments
Branding
Achievements dashboard
Onboarding video guides
Customizable bot responses
Distribution of the bonus for the selected period
Leaderboards by groups
Leaderboards by company values
Onboarding connect feature
Live connect
Channel recognition
Reaction recognition
Automation/trigger recognition
Games
Customizable default view