Why choose Karma over Bravo?
Bravo team has managed to build a successful employee rewards and recognition platform, to help other companies reduce the turnover of Millennial and Gen Z employees. If you're here to understand the difference between Karma and Bravo or looking for an alternative, this article is for you.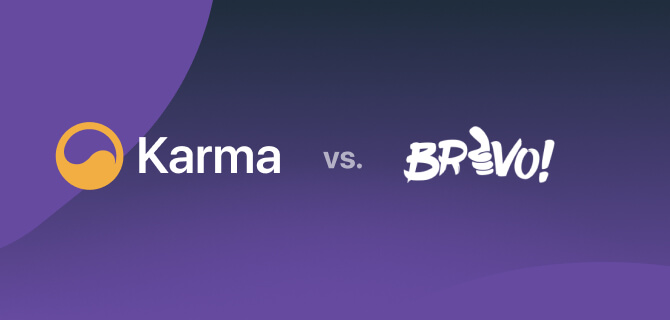 What's the difference between Karma and Bravo? What's right for me?
Great question! Let's find out by comparing the features of these two platforms so that you have a perfect understanding of which platform fits most to your company's needs.
Both Karma and Bravo offer a variety of features, including the ability to add rewards, set up point systems, and track employee progress to create custom recognition systems from scratch. Using both, you can also have a leaderboard to see the employees, who are most recognized in your organization. Aside from that, Karma and Bonusly provide you with detailed analytics and reports of which employees are using the platform most, what kind of recognition they are giving, and who is receiving the most of them. The first thing that's hard not to notice is Karma's user-friendly interface compared to the one on Bravo's platform. Bravo has many additional features, but it's hard to navigate within the profile and the control center and find what you're looking for.
When it comes to pricing, Bravo offers a 15-day trial, after which users can choose one out of 3 available plans. Karma, instead, offers you a free account with limited features or a PRO subscription 30-day trial to get started. Bravo allows recognition via a command in Slack's channel and on the platform itself and doesn't have any recognition preview in Slack that makes users go to the website to see how many points they've accumulated. Karma provides various options to give instant recognition within the Slack channels but doesn't provide a choice of giving recognition from the platform.
The main difference between these two platforms is that Karma offers instant recognition and almost full engagement on the Slack platform, unlike Bravo, which keeps recognition scores on a separate platform. It also has an overlap on the user-friendliness side, as Bravo's platform looks challenging without navigation.
Set up the account

Karma is made especially for Slack, so users can enter their Personal accounts with the magic link. There's no need to create additional passwords or set up the profile either, Karma takes care of it all.

Bravo is designed as a social platform. To log in to the personal account, users need to sign up with an email, create a password, and then set up the profile with basic information.

Reinforce company values

Karma allows to customize questions and receive anonymous feedback from employees. Provides leaderboards that allow recognition of more employees by filtering it according to the various company values. Karma offers an achievement dashboard with customization options.

Bravo provides with one-for-all leaderboard, the option to request feedback from a particular peer(s), and a set of achievements that can be recognized, such as customized awards or gift cards.

Create rewards

Karma gives you access to the same set of rewards and offers to create team rewards to motivate employees to interact with each other more. Karma coins don't expire, so users can accumulate coins to redeem a more valuable desired gift.

Bravo gives an opportunity to redeem Custom rewards and purchase automatic Gift cards from the Reward shop. Also allows to attach an instant reward to the message in Slack.

Give recognition

Karma is built especially for Slack, allowing fast recognition in any channel by using trigger emojis, extention or command directly in chat to make sure users don't forget to share some appriciation. Karma replies back to the thread with customized card or text.

Bravo is built as a social platform. It encourages giving recognition on the platform's recognition wall or in a separate Slack channel using a specific command. There's a possibility to give points to a few people at a time.
An alternative to Bravo —
only more engaging
So basicly, the main difference between the two platforms is that Karma recognition platform is focused on social recognition, while Bravo is focused on performance-based recognition. This means that Karma offers more features for businesses that want to encourage employees to interact with each other and build relationships, while Bravo is better suited for businesses that want to reward employees for meeting specific goals or targets.
Custom values
Feedback
Reports
Rewards
B-day notifications
Leaderboards
Quarterly/monthly/
weekly/daily dashboard period
Personal profile for each employee
Customizable bot responses
Live connect
Departments
Distribution of the bonus for the selected period
Branding
Achievements dashboard
Leaderboards by groups
Leaderboards by company values
Onboarding connect feature
Channel recognition
Reaction recognition
Automation/trigger recognition
Onboarding video guides
Games
Customizable default view