Why choose Karma over Kudos?
Kudos offers a comprehensive employee recognition and engagement platform that helps companies build a culture of recognition. Their platform includes features such as social recognition, leaderboards, rewards and incentives, analytics, and more. Kudos has helped many companies reach their full potential by engaging teams in recognition and building a culture of appreciation. If you're here to understand the difference between Karma and Kudos, or looking for an alternative, this article is for you.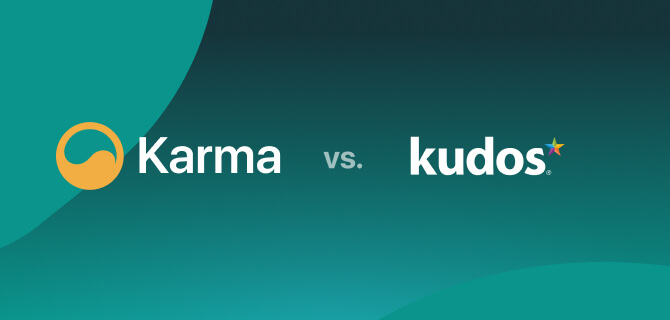 What's the difference between Karma and Kudos? What's right for me?
We're not rooting for Karma here, but trying to objectively compare the two products, so you can choose based on the features you want to use in your team. Let's get into it!
Karma and Kudos are both great recognition platforms that are made for users to give and receive recognition to improve performance and build relationships. Each platform lets to set up custom rewards and company values for their organization, as well as offers a variety of reports and analytics to help companies track the success of their recognition programs.
However, there are a few key differences between the two. If you're interested in trying out Kudos, you need to request a demo to find out the pricing information. With Karma, you can sign up for a PRO subscription 30-days trial or chose a free account to get started. Kudos is a social platform that integrates with Slack, allowing users to give and receive recognition within the chat or from the Kudos Wall. With Karma, you can give recognition only within Slack channels by automatic options, connecting live sessions with colleagues, and celebrating their birthdays or work anniversaries within the platform. Karma allows users to create custom rules and regulations to suit their specific needs, while Kudos is a one-size-fits-all platform that doesn't offer much in terms of customization.
The main difference between Karma and Kudos is that Karma offers more features for managing employee recognition, while Kudos focuses more on social sharing and peer-to-peer recognition. They both offer slightly different feature sets, but there's still a lot of overlap and similar levels of user-friendliness. The biggest difference between the two is that Kudos doesn't require much customization and more oriented on the large enterprises of 2k+ employees, when Karma is better suited for companies with lesser employees and therefore offers more flexibility within its customization features.
Set up the account

Karma is suitable for all size companies due to its flexible customization features. Users can enter their Personal accounts with Slack's magic link. There's no need to create additional passwords or set up the profile either, Karma takes care of it all.

Kudos is a solution designed for companies with more than 500 employees. To log in to the personal account, users need to sign up with an email, create a password, and then set up the profile with basic information.

Reinforce company values

Karma allows to customize questions and receive anonymous feedback from employees. Provides leaderboards that allow recognition of more employees by filtering it according to the various company values. Karma offers an achievement dashboard with customization options.

Kudos doesn't offer a survey tool but shows engagement leaders on the dashboard, including short analytics within the users' personal profiles. Employee activity postes to a Kudos Wall that showcases everyone's achievements in a highly visible way.

Create rewards

Karma allows you the same set of rewards and also offers to create team rewards to motivate employees to interact with each other more. Karma coins don't expire, so users can accumulate coins to redeem a more valuable desired gift.

Kudos gives an opportunity to redeem custom rewards, automated gift cards, and send donations. Kudos that are awarded expire if not used at the end of a month.

Give recognition

Karma is built especially for Slack, allowing fast recognition in any channel and to the whole list of its participants at a time, and also by selecting users individually. Employees can use trigger words and automated emojis to share more instant recognition within the channel.

Kudos is built as a social platform. It encourages giving recognition on the platform's recognition wall or in a separate Slack channel using command or extention. There's a possibility to assign kudos to a few people at a time and for other employees to add up extra kudos.
An alternative to Kudos —
only more flexible
As a conclusion, both Karma and Kudos are great recognition platforms but they have their differences. The choice really depends on what you are looking for in a recognition platform and which features are most important to you. The main difference is that Karma has a more social focus, with features like Karma Connect, onboarding, team rewards and automatic interactions, while Kudos is more focused on individual recognition and performance analytics and can be handled easier in a bigger companies.
Custom values
Feedback
Reports
Rewards
B-day notifications
Leaderboards
Quarterly/monthly/
weekly/daily dashboard period
Personal profile for each employee
Customizable bot responses
Departments
Distribution of the bonus for the selected period
Branding
Onboarding connect feature
Achievements dashboard
Leaderboards by groups
Leaderboards by company values
Live connect
Channel recognition
Reaction recognition
Automation/trigger recognition
Onboarding video guides
Onboarding video guides
Games
Customizable default view